Learn how to scale, diversify, & monetize your business.
You deserve to scale a business you love, so you can build a life that is value-aligned, help more people, and achieve financial freedom.
Learn how to scale, diversify, & monetize your business. This high level course gives you what you need in skillset & mindset to add streams of revenue to your business & to provide more services & products to your ideal client. I'll fast forward your learning curve & teach you everything I know as your coach. This is a robust course with over 23 hours of video content, guest interviews, 16 workbooks, and industry secrets to transform your business into high impact & high reward.
IN THIS COURSE WE EXPLORE 16 KEY MODULES TO HELP YOU SCALE:
BE AN ORGANIZED LEGIT CEO
MINDSET & EMOTIONAL SUPPORT
MEMBERSHIP SUBSCRIPTIONS
ACCOUNTING
TEAM EXPANSION
SCALE & MONETIZE BUSINESS BRANCHES LOGISTICS (LEGAL & LEASING)
BRANDING
SOCIAL MEDIA
MARKETING
PUBLIC RELATIONS &PITCHING
HAVING A CLEAR MAP FROM A COACH CAN BE THE DIFFERENCE BETWEEN SUCCESS & FAILURE IN BUSINESS
WRITING & GETTING PUBLISHED
SPEAKING
ONLINE COURSES
MERCHANDISE
PODCASTING
BRAND SPONSORSHIPS
23+ HOURS OF VIDEO CONTENT, 16 WORKBOOKS, 16 BUSINESS VIDEO LESSONS FROM ME, 19 EXPERT GUEST INTERVIEWS
YOU DON'T HAVE TO WING IT
WHAT'S IT MEAN TO SCALE, DIVERSIFY, AND MONETIZE YOUR BUSINESS?
INSTEAD OF SPENDING 7 YEARS WITH MOSTLY MISTAKES AND A LOT OF CRYING, YOU CAN GET THE EDUCATION AND COACHING I WISH I HAD WHEN I STARTED MY ONLINE BUSINESS IN 2017.
This high level course gives you what you need in skillset & mindset to add streams of revenue to your business and to provide more services and products to your ideal client.
I'll fast forward your learning curve and teach you everything I know as your coach. This is high touch, high value, deepest work I offer.
What If i don't know if I'm worth the investment?
There is no better investment than investing in yourself. When you invest in you, others invest in you. Business coaching empowers you to build revenue and save money long term!
You have access to knowledge and coaching that will save you TIME, ENERGY, PAIN, TEARS, GUESSWORK, & SELF-DOUBT.
I too am very intentional about my investments, and provide 16 modules of training that WILL fast-forward your learning.
Theres no one-stop shop for scaling your business... until now.
Finally launch that course you've been sitting on.

See how easy it is to produce merchandise.

Pitch your idea with confidence with my PR template.

Land that keynote speaking gig because you've been taught how.

Grow your podcast, get paid to work with brands, and so much more...
You can have it all
Mindset accountability.

Skillset guidance.

Learn from guest experts.

Hear my lessons learned and tips.

Get over 23 hours of videos, 16 workbooks, learn from over 16 guest experts, & get pumped up about growing your biz!
I'm Tiffany Roe. Nice to meet you!
I'm a Licensed Clinical Mental Health Counselor, award-winning psychology teacher, speaker, Therapy Thoughts Podcast host, & the owner of Mindful Counseling Utah & Tiffany Roe LLC.
My goal is to help my clients and students have kickass mental health and to empower entrepreneurs with badass mindset & skillset.
YOUR QUESTIONS ANSWERED
FREQUENTLY ASKED QUESTIONS
Can I get a refund if I don't like this course?
There are no refunds on online courses. Make sure to read all that is included before purchasing.
WHAT ARE PROS/CONS OF ONLINE COURSES?
You get TONS of material, to digest at your own pace, to implement and review as need. This is a one-direction interaction. If you're looking for customized suggestions, strategy, and launch planning; I offer 1:1 business coaching.
can i purchase this as a gift?
Great question! All you need to do is enter in the recipient's email address and name at point of purchase. They will then receive a confirmation email with the necessary login steps to access their course!
How long will I have access?
How does lifetime access sound? After enrolling, you have unlimited access to this course for as long as you like - across any and all devices you own.
ARE THERE ANY ADDITIONAL MATERIALS I NEED?
"I'm Suneera Madhani, a billionaire tech unicorn, founder and CEO of STAX, one of America's top 10 fastest-growing fintech companies, a Forbes 40 under 40, and I fucking love Tiffany Roe. Tiffany Joined my business mastermind and her knowledge and impact stood out and I knew we would collaborate.
I then hired Tiffany as MY business coach and can't recommend her highly enough.
She supported my skillset AND mindset in coaching. She coached me in launching my first entrepreneur retreat and a robust online course.
She worked with my team and overdelivered every time. I now hire Tiffany not only as my 1:1 business coach, but hire her to speak at all my retreats, conferences, have had her on my podcast, and have developed an authentic supportive friendship. 
She's a perfect mix of challenging, supportive, empathic, visionary, hype girl, and knowledge. 
It's rare to find a coach who has scaled both a digital business brand AND a brick and mortar physical business; that's what drew me to Tiffany. She also has the mental health/mindset expertise that has been the biggest game changer for me. 20/10 recommend my friend, colleague, coach, and fav therapist T. Roe."
–Suneera Madhani
"Tiffany has been everything I didn't know I needed in a coach. I HAD a successful 7 figure business. I HAD a dream team. I HAD a 6 figure income. What more could I do, right? But Tiffany showed me that this was only the beginning, and that I am capable of SO MUCH MORE.After just 4 coaching calls with Tiffany, I have successfully launched my first course and, after only 2 days in the launch, have brought in multiple 5 figures in sales… and counting. Tiffany gave me the tools I needed to zoom out, make changes in my day to day role in my business to maximize my time, and helped me get through blockers along the way. Seemingly simple suggestions like getting my team on Slack (instead of texting all day and night 💀), hiring a virtual assistant (YOU NEED ONE LET ME TELL YA), cutting down the hours I was working IN my business so I could work ON my business, and giving me the inside scoop on how to launch an amazing course are all some of the ways she has helped me grow into the CEO I am today, rather than remaining the founder I was 5 months ago.
I am forever grateful for Tiffany and can't wait to see what else I do with her guidance over the next 6 months! Thank you Tiffany!" 
–Becky Allen, PT, DPT
I went from therapist to CEO by scaling a digital & Physical business to 7 figures. IMAGINE:
paying off your student loans
reaching your ideal client
meeting your ideal clients needs at different stages of their client journey
building a product suite that you're proud of
doing what you love and making an impact while gaining financial freedom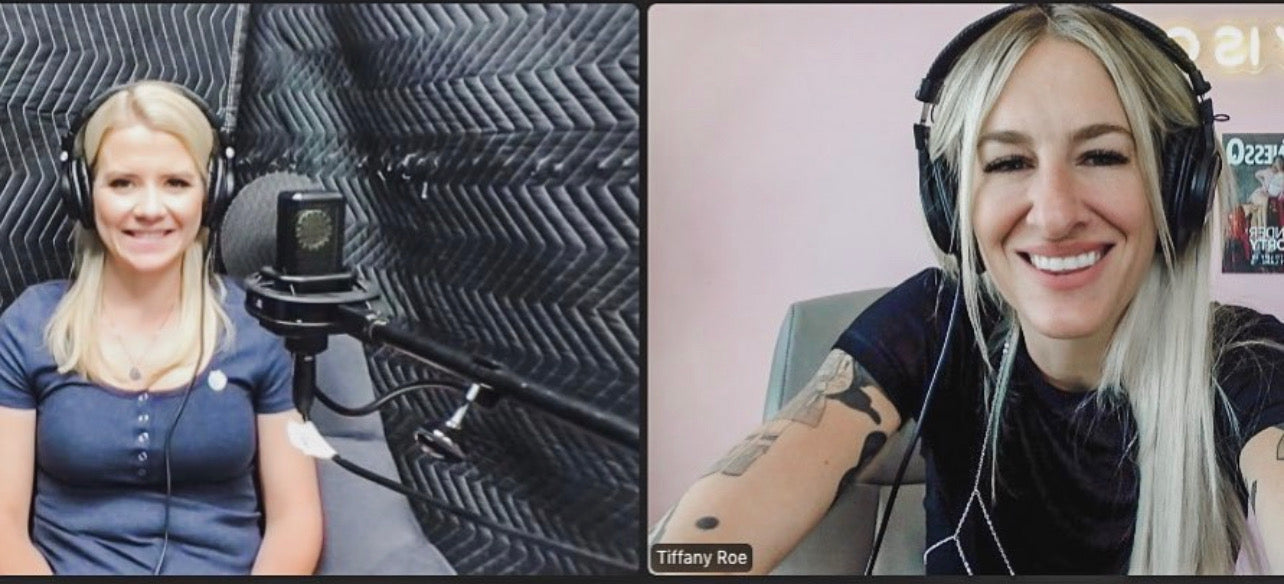 You're allowed to make money, help people, and make a huge impact.
Here's your permission slip.
You deserve knowledge, support, and guidance as you build the business you love!