Introducing
INTRO TO INTUITIVE EATING
In this one hour introductory webinar video course we review material from the Intuitive Eating book, workbook, and my professional experience. This course is appropriate for beginners looking to understand intuitive eating. This course is based off of the book Intuitive Eating: A Revolutionary Program that Works by Evelyn Tribole & Elyse Resch & The Intuitive Eating Workbook: Ten Principles for Nourishing a Healthy Relationship with Food by Evelyn Tribole & Elyse Resch. It is introductory in nature.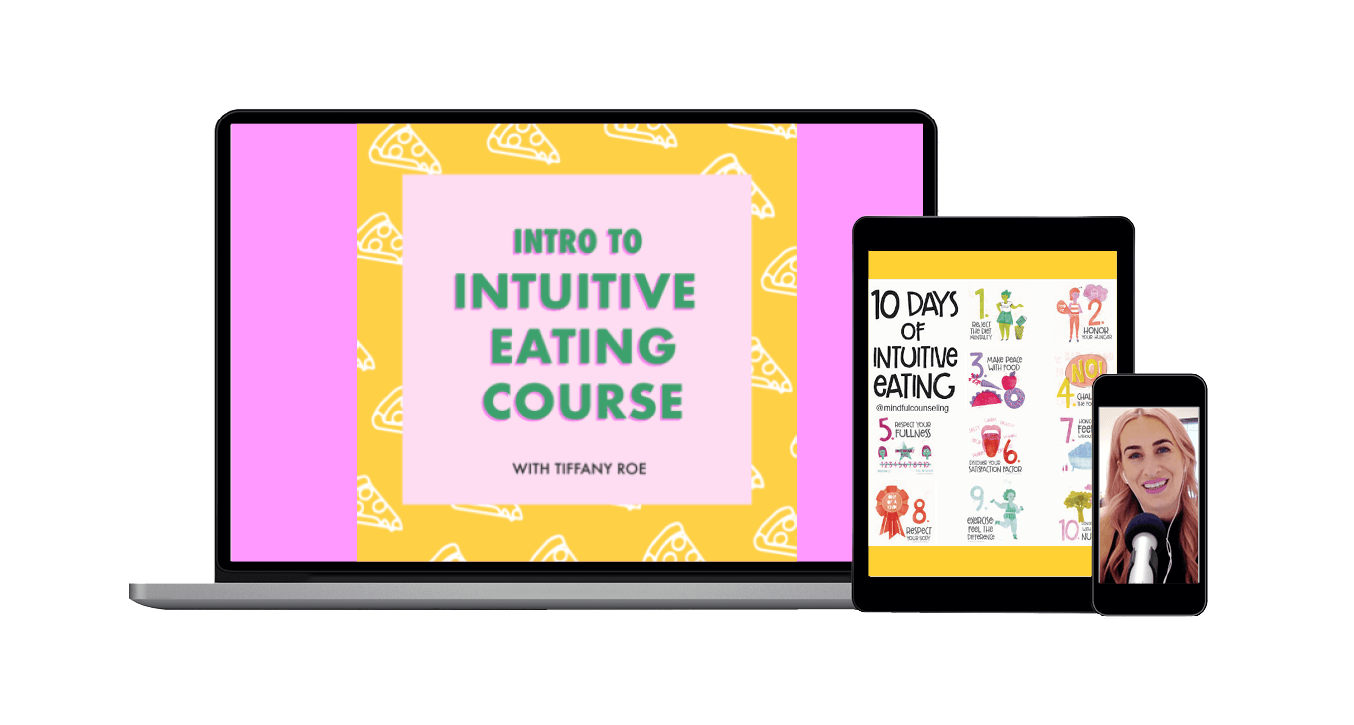 1-HOUR WEBINAR LECTURE INCLUDES:
A review of the 10 principles of intuitive eating
Common myths and facts of dieting
Common myths and facts of intuitive eating
Introduction to the 10 principles of intuitive eating with exercises and activities for you to practice in real life
A 10 minute guided meditation to help you tune into your hunger and fullness cues
How to start intuitive eating, reject the diet mentality, deal with overeating, and find satisfaction while eating
PDF art printout of the 10 principles of intuitive eating
How to be an intuitive eater while on a restrictive diet for health conditions or due to restrictive lifestyles for ethical reasons
Specific steps to building a healthy relationship with food
Access to my intuitive eating podcast episode
ADDITIONAL RESOURCES:
17-page packet with principle summaries by Tiffany Roe, MA, CMHC and Registered Dietician Paige Smathers RDN, CD. This packet includes journal prompts, research, and professional insights!
Access to VIDEO INTERVIEW WITH THE CO-AUTHOR OF INTUITIVE EATING HERSELF, EVELYN TRIBOLE!!! This 1 hour skype video is on accessible in this course. You can hear the audio version in my podcast.
DO YOU RECOGNIZE WHAT "RULES" YOU'VE BEEN TAUGHT SURROUNDING FOOD?
Let me tell you something, fam. The "rules" you've learned about food are not universal truths. They are temporary trends that shift with decades, marketing, and fads. Scream a loud "NO" to rules in your head that declare you're "good" for eating minimal calories or "bad" because you ate some cake.
Intuitive eating empowers you to reclaim a relationship with food based on freedom and peace. We drop the rules, shame, obsessions, and take on a whole new paradigm of flexible thinking and self-compassion! It's all about self-trust, connection to body mind and food. I've been an Intuitive eater since 2006 and I'm here to share so you too can reclaim your life from dieting. It's a journey and it's AMAZING.
YOU'RE READY TO START YOUR JOURNEY, BUT DON'T KNOW WHERE TO BEGIN
This course is great place to start. Intuitive eating aims to reconnect us to instinct and intuition. Intuitive eating aims to get you back in touch with your body's own signals.
NO MORE RULES.
NO MORE PUNISHMENT.
NO MORE COUNTING.
NO MORE BLACK OR WHITE THINKING.
It's is about listening to all of the messages your body gives you and striving to feel good in your body as a result of your food choices.
As a licensed mental health counselor, I've helped thousands of people improve their relationships with food. I have lived experience as a person recovered from anorexia, bulimia, and orthorexia for more than 15 years.
I promote intuitive eating because dieting is a leading cause of eating disorders. Intuitive eating research shows it is supportive of mental health and physical health. Intuitive eating challenges the norms of our unquestioned diet culture; it's revolutionary. And, it saved me. In this course I share my personal and professional insights as an intuitive eater to help you heal your relationship with food.
NO MATTER WHAT YOU TRY
YOU'RE EXPERIENCING DISCONNECTION.


You might feel disconnected to your body's hunger cues or signals.

AND EVEN SHAME.


You feel shame and guilt when it comes to eating certain foods

AND YOU CAN'T ESCAPE FROM DIET CULTURE.

You've fallen victim to this diet culture system that time and time again proves failure and harm.
WELL WHAT IF....
YOU HAD TOOLS TO HELP YOU START YOUR OWN IE JOURNEY?


We're talking real tools to help you return back to your true self and find peace with food.

YOU COULD LEARN HOW TO LET GO AND REJECT FEELINGS OF SHAME AND GUILT?


Let's kick diet culture to the curb and dismantle harmful societal norms together.

YOU FINALLY BEGAN TO HEAL YOUR RELATIONSHIP WITH FOOD?


Healing your relationship with food is like any other relationship: it requires compassion, time, effort, trust, forgiveness, listening, kindness, and a lot more. It's nuanced, complex, and guess what... you're the boss.
I'm Tiffany Roe.
Nice to meet you!
I'm a Licensed Clinical Mental Health Counselor, award winning psychology teacher, speaker, and the owner of Mindful Counseling LLC in Orem, Utah. My goal is to help my clients and students have kickass mental health. I've focused my career on helping women make peace with mind, body, and food.
I feel called to work with women and to help them find their purpose and self-worth. I believes you can love yourself, your body, and your relationship with food.
I want to change the mental health game. I want to make mental health support and education accessible. I want to break the stigma. I want you to feel empowered to have great mental health so we're doing it one course at a time!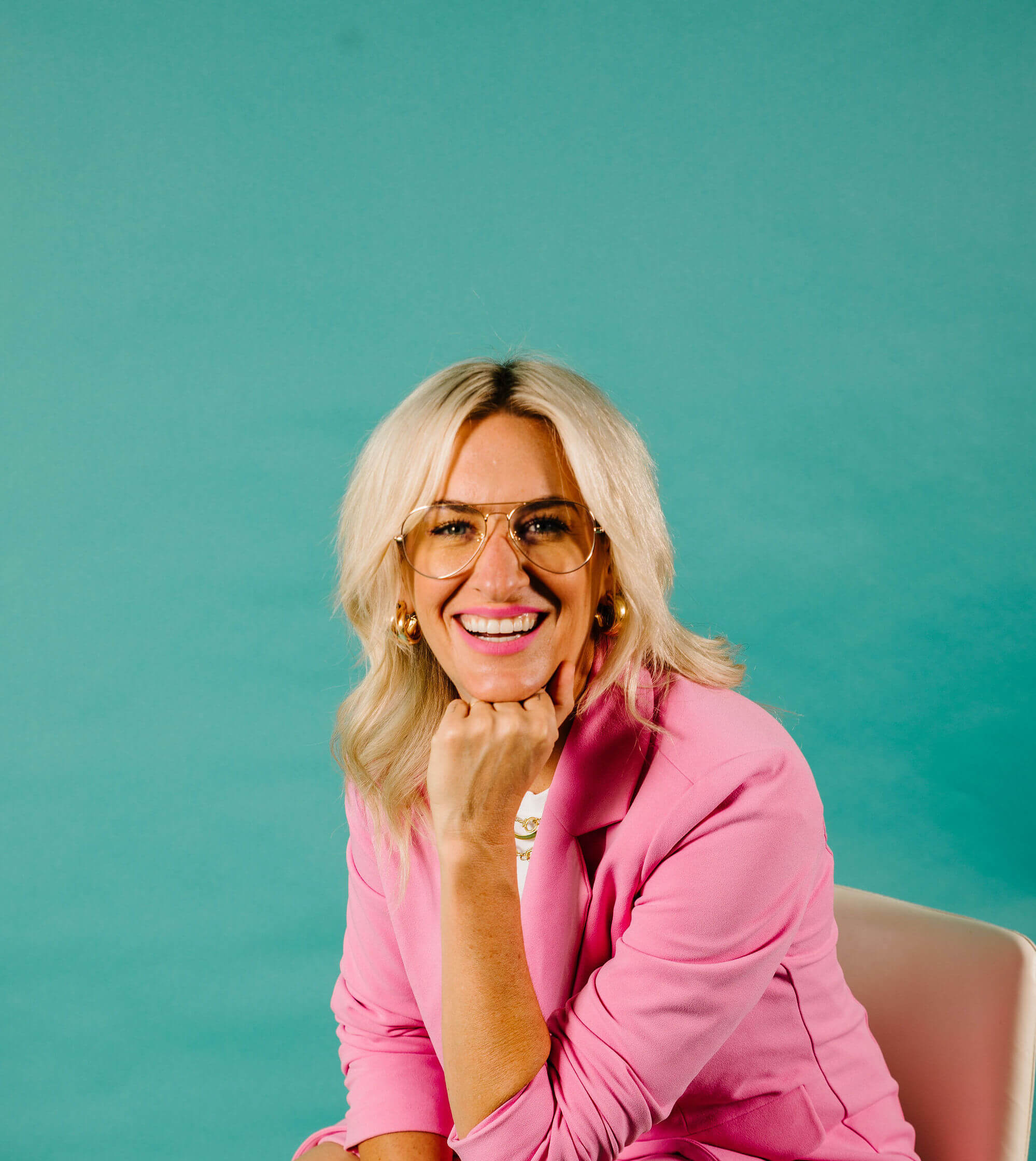 YOUR QUESTIONS ANSWERED
FREQUENTLY ASKED QUESTIONS
HOW LONG WILL I HAVE ACCESS?
How does lifetime access sound? After enrolling, you have unlimited access to this course for as long as you like - across any and all devices you own.
WHAT ARE PROS/CONS OF ONLINE COURSES?
Many clients come into therapy after taking the classes wanting to go deeper into their own beliefs, thoughts, feelings, and behaviors. Other clients come into therapy and enjoy course material as homework between sessions. These courses are not an appropriate substitute for therapeutic treatment, a therapeutic relationship, or formal medical or mental health care. Courses are a general educational tool geared toward general populations seeking information on specific topics (mindfulness, body image, etc.) Online courses are for educational purposes only. Think, psychology class combined with self-help suggestions. Therapy is a professional relationship with in-depth individualized goals, interventions, feedback, and support.
What is your return policy?
All sales for online courses are final.
HOW CAN I PURCHASE THIS AS A GIFT?
Great question! All you need to do is enter in the recipient's email address and name at point of purchase. They will then receive a confirmation email with the necessary login steps to access their course!
ARE THERE ANY ADDITIONAL MATERIALS I NEED?
You might want to check out my Body Image Course for a deeper dive into healing your relationship with your body. Click here to find out more
Truth Bombs From Past Students
"I LOVE LOVE LOVE this course. I have recommended it to several people. It was so inspiring and just made me feel so much better about myself and my eating habits. It also made me want to kick diet culture right in the face and out of my life. Thank you for all that you do and all that you teach the world. You are a light!"
––INTRO TO INTUITIVE EATING STUDENT
"I can't even begin to say enough good words about your courses! I've struggled with everything from anxiety, depression to a 14 year eating disorder. Your courses are the first thing that truly clicked for me. The first time I listened to one of your podcasts I was sobbing on the floor because it hit me so hard. Your content is in depth, powerful, touching and honest! You hit home with these ones!! I love every single thing about them! The intuitive eating was a huge one for me! Especially since I struggled with an Eating Disorder! I can't thank you enough for everything you do!"
––INTRO TO INTUITIVE EATING STUDENT
THIS IS FOR YOU IF...
YOU'VE ALWAYS STRUGGLED WITH NAVIGATING HOW TO REPAIR YOUR RELATIONSHIP WITH FOOD.
YOU WANT TAKE THE NEXT STEP IN YOUR MENTAL HEALTH JOURNEY.
YOU'RE READY TO REJECT DIET CULTURE!
THIS ISN'T FOR YOU IF...
YOU'RE NOT WILLING TO PUT IN THE WORK TO TUNE INTO YOUR BODY'S NEEDS.
Course Disclaimer
My courses are not therapy. My courses are not a replacement for therapy. My courses are for educational purposes only. I am a therapist, but this is not a therapeutic relationship. I recommend working with a mental health professional for a higher level of care if needed.
For more, check out my terms of use page and Course FAQ's.